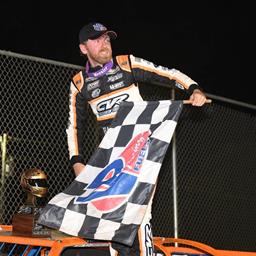 ---
Matt Henderson scores $10,037 payday at Wartburg
Matt Henderson scored his richest-career triumph on Friday night in Wartburg Speedway's Dylan Kennedy Memorial. The Tennessee racer pocketed $10,037 for his winning performance aboard Darrick York's No. 7 Turpin's Auto Repair / CVR Race Car / Phantom Racing Engine Late Model. (G&A Racing Photography)
"Unbelievable. Absolutely unbelievable. That's the best to describe the win Friday night at Wartburg. The York family gave me the absolute fastest car on the property, and we got the $10,037 Dylan Kennedy Memorial win. It was a 2019 CVR Race Car that ran like a 2021, and the Phantom Racing Engine was amazing. I even knocked the radiator out of it, and it still hung in there with me," Henderson shared. "I can't thank the York family enough for the opportunity to drive the car, and I hope that Darrick (York) gets to feeling better soon. Last but not least, thanks to Luke Crass and Chip Vineyard for believing in me and giving me rides, where people feel okay with giving me their seats when needed."
Friday night saw Matt Henderson hop behind the wheel of the Darrick York-owned No. 7 Late Model at Wartburg Speedway (Wartburg, Tenn.) for the Dylan Kennedy Memorial.
In a field of 31 entries, Matt clocked in second-fastest overall before placing second in the Dash. Rolling off second for the main event, Henderson inherited the lead on the 19th lap when race-long pacesetter Kenny Collins was collected in a tangle with a lapped-car. He went on to wire the field in the 50-lapper to register his 10th win of the season, which came over Jed Emert, Mike Weeks, Dan Tipton, and Jason Manley.
Henderson earned $10,037 for his victory, which by far marked the richest payday of his career.
The following night at Smoky Mountain Speedway (Maryville, Tenn.), for the American All-Star Series-sanctioned Smoky Mountain Summer Showdown, Matt topped the 32-car field in time trials in his Stanco Equipment Co. No. 17 Vineyard Lawn / CVR Race Car / Hendren Racing Engine Late Model before finishing second in the Dash. Unable to overtake polesitter Cory Hedgecock, Matt followed closely throughout the 60-lap affair to finish second. Eli Beets, Zach Sise, and Dillon Brown completed the Top-5 finishers.
After a post-race inspection found illegal fuel, Henderson was dropped to the tail of the rundown.
For more information on these events, please visit www.WarburgSpeedway.net and www.CrateRacing.com.
Back to News