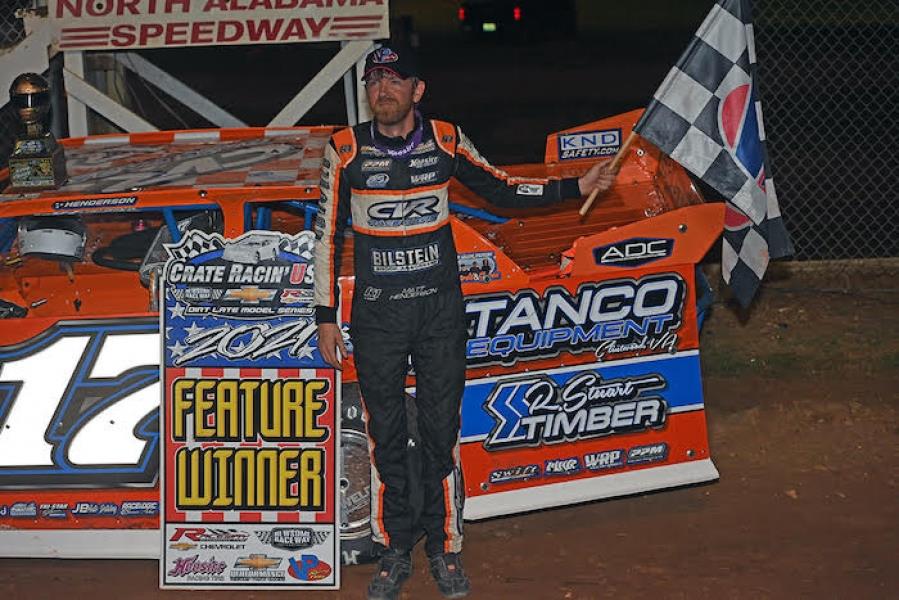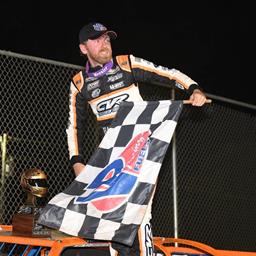 ---
Henderson completes King of Crate sweep at North Alabama
Matt Henderson broke out the broom during North Alabama Speedway's King of the Crates weekend. Henderson collected over $5,000 in winnings after topping the Crate Racin' USA Series action on both Friday and Saturday night in his Stanco Equipment Co. No. 17 Vineyard Lawn / CVR Race Car / Hendren Racing Engine Late Model. (Brian McLeod photo | Dirt Scenes)
"I'm so fortunate to be able to drive for this team. We were blessed with wins 11 and 12 of the season over the weekend at North Alabama. Our car was on point both nights, and I'm so proud for my guys. They do an amazing job. Chip brings so much speed, and Corbin does everything on this car perfect or nothing. Jason stays late to help me on whatever I need to get done, and then I'm just the fortunate one that gets to hold the steering wheel," Henderson shared. "It's a pleasure to represent all the guys at CVR as well as our other marketing partners. This weekend sweep is dedicated to our buddy, Jamie Stanley. Last but definitely not least, I say a big thank you to our great sponsors for 2021."
Friday night found Matt Henderson in action at North Alabama Speedway (Tuscumbia, Ala.), where he was piloting the Vineyard Lawn No. 17 Late Model in the opening round of the two-day fifth annual King of the Crates.
With 43 Crate Racin' USA entries on hand, Henderson recorded a blistering time in qualifying with a 14.424 second lap, which positioned him second on the starting grid for the feature. Charging to his 11th win of the season, Matt topped Jadon Frame, Evan Ellis, Bryant Marsh, and Corey Posey at the line to pocket the $2,000 payday.
With the field reduced to 36 cars on Saturday, Matt's fastest qualifying time locked him into the pole position for the feature. Remaining flawless on the weekend, Henderson cruised to 40-lap victory, which came over Jimmy Thomas, Randall Beckwith, Jadon Frame, and Jason Welshan. His 12th win of the 2021 campaign was worth $3,000.
For more information on these events, please visit www.CrateRacinUSA.com.
Back to News