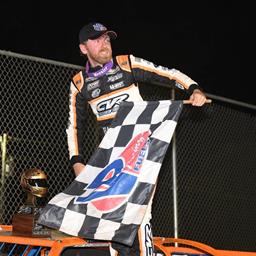 ---
Fourth-place finish in Super Bee 100
Matt Henderson and the CVR Race Cars team ventured to Super Bee Speedway (Chatham, La.) on Thursday afternoon to take part in the three-day Super Bee 100. After topping his time trial group on Thursday, Henderson streaked to a 12-lap heat race win on Friday afternoon. (DirtonDirt photo)
Defeating Dylan Knowles in his match race, Matt locked into the fifth-starting position for the Saturday night's $50,001-to-win Super Bee 100.
After sneaking ahead of Carson Ferguson for second near the halfway point of the 100-lapper, Henderson was unable to close the distance on Joseph Joiner late. He faded back to fourth when the checkered flag flew, trailing Joiner, Cade Dillard, and B.J. Robinson to the checkers with Ferguson coming in fifth.
For more information on this event, please visit www.SuperBeeSpeedway.com.
Back to News